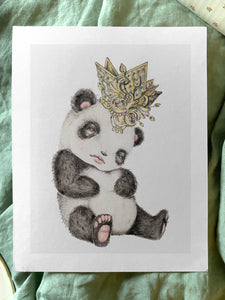 ABOUT: Everyone knows that pandas are masters of the martial arts and Pandajito is no exception to the rule. Though Panadjito is known across the land as the most accomplished martial artist of all time he has taken a vow of silence and peace. If conflict arises you can be sure that Pandajito will arrive to de-escalate the situation with his peaceful energy, and while other choose to fight the great Pandjito chooses to kill his opponent with kindness.
FAVORITE SAYING: "______! "
16 x 20 Museum-quality posters made on thick and durable matte paper. Each Jito is giclée-printed on archival, acid-free paper that yields brilliant prints to brighten up any room.
Paper thickness: 19.5 mil
Paper weight: 300gsm
Giclée printing quality