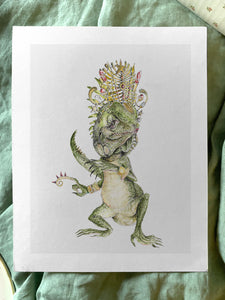 ABOUT: Meet Lizardjito. She is a bad mamajama and has a photographic memory.  While the lizard is not as adventurous as some of the other Jitos, she does listen to everything very closely and never forgets a story.  She has watched the world change, in some ways for the better and in some ways for the worst.  Lizarjito is the historian for all of the jitos, and passes on stories to the next generation of Jitos so they NEVER forget their past.

FAVORITE SAYING: "Let me tell you a story."
16 x 20 Museum-quality posters made on thick and durable matte paper. Each Jito is giclée-printed on archival, acid-free paper that yields brilliant prints to brighten up any room.
Paper thickness: 19.5 mil
Paper weight: 300gsm 
Giclée printing quality