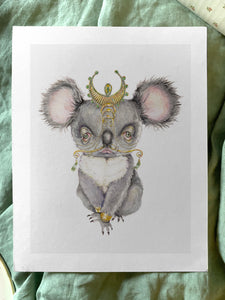 ABOUT: Koalajito is over 100 years old and has seen the forrest change drastically. While he might be the slowest and laziest of all of the Jitos, he is also the most wise.  Not only do all of the koalas line up for his advice, the leaders of all the other Jitos come to Koalajito when they need advice.  During his down time, he can usually be found at the top of the tallest tree eating, sleeping or dropping leaves on Jitos just to mess with them.  

FAVORITE SAYING: "I remember when a frankfurter cost a nickel"

16 x 20 Museum-quality posters made on thick and durable matte paper. Each Jito is giclée-printed on archival, acid-free paper that yields brilliant prints to brighten up any room.
Paper thickness: 19.5 mil
Paper weight: 300gsm
Giclée printing quality