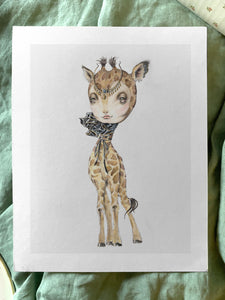 ABOUT: Giraffejito days are packed with adventure and fun as she roams the lands south of the Sahara. With little to no time spent sleeping Giraffejito favorite past time is playing pranks on her friends.  She is the joker of the bunch, and the master of the "dad joke."  She is the perfect leader of the giraffes, as they all adore her and her awful jokes, but they know that when there is a problem, they will all band together and do whatever is needed to help.

FAVORITE SAYING: "How's the weather down there?"
16 x 20 Museum-quality posters made on thick and durable matte paper. Each Jito is giclée-printed on archival, acid-free paper that yields brilliant prints to brighten up any room.
Paper thickness: 19.5 mil
Paper weight: 300gsm
Giclée printing quality