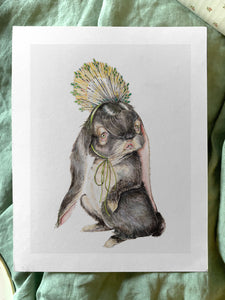 ABOUT: Bunnyjito is a quick witted forest dwelling rabbit constantly hopping around looking for excitement. While playing with his buddies or nibbling on carrots is how you will most likely find him, Bunnyjitos ongoing quests for good is what all the other creatures admire about him most. He regularly organizes adventures to do good with the last one being a march to the neighboring forest where he and his bunny crew rushed in to save a tribe of lizards from a forest fire.  He is fearless and tactical, and leads his bunnies with honor.  
FAVORITE SAYING: "That's so crazy it just might work!".
16 x 20 Museum-quality posters made on thick and durable matte paper. Each Jito is giclée-printed on archival, acid-free paper that yields brilliant prints to brighten up any room.
Paper thickness: 19.5 mil
Paper weight: 300gsm
Giclée printing quality